Finding the Right Swimsuit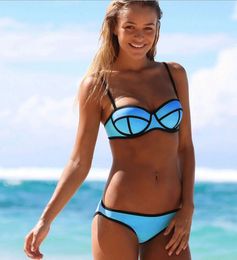 Have you ever had a holiday in the sun planned and leave shopping for a swimsuit till two days before your trip? I used to leave the swimsuit till last because I didn't know what was best for me. Finding the right fit and the right style can be really difficult sometimes and you end up just buying any old swimsuit because your stress levels are starting to go through the roof! It doesn't need to be like that though. The perfect swimsuit is out there for you. If you have a quick read through our guide to buying ht perfect swimsuit you might find that next time when it comes to your holiday to do list buying a swimsuit will be at the very top.
There are loads of different styles, cuts and shapes on the market but which one is the right one for you. That depends on two major things. Your busts size and your body shape. Here are some of the trendiest styles out there right now and a few tips on which one you should pick up.
Halter: Halterneck bikinis are designed to tie at the neck. These types of bikinis are perfect for all bust sizes. They often come in bandeau and plunge shapes. If you have an hourglass body shape then this might compliment your figure.
Bandeau: If you are looking to get the perfect tan and want to minimise your tan lines then this is the perfect bikini top for you. They often come with removable straps or even no straps. If you are large in the bust department though ti might feel a tad o the uncomfortable side.
Balconette: If you have a large cup size then this is a good starting point. Balconnette bikinis have adjustable shoulder straps to help with support. 9 times out of 10 they are underwired too.
Plunge: The term plunge refers to the neck line of this bikini. Plunge Bikini's have a deep "V" shape to them. The neckline is low and will show of some of your cleavage. They are also very good for support and uplift.
Triangle: This bikini offers little in the way of coverage. Often the are triangle shaped cups and they will tie either around the neck or around the back. If you have a smaller bust then this is the perfect bikini top for you.
So now that you know what is the perfect bikini top for you what about your bottom half. Depending on the shape of your body and how confident you are with strutting your stuff at the beach will help your decipher which is the perfect for you.
Classic: This cut never goes out of style and it is synonymous with bikini style. This is perfect for any body type and shape.
High Waist: If you are looking for a bit of extra coverage then you should consider high waist bikini bottoms. These bottom are designed to come up over you belly button. They also give an almost retro flare to your swim suit.
Tie Side: For those who are a little more daring these bikini bottoms tie at the side. They have the same cut at the rear as a classic bikini style but show more leg at the top.
Skirted: for those who would like to add a bit more shape to the hips you should try a skirted bikini bottom. These usually come is some beautiful prints.
Fold: If you are looking for a bit more coverage along your stomach area that a folded top is perfect for your needs. As the title suggest the folded top will sit around your waist adding a bit more coverage to your swimsuit.
Short: If you are looking more more coverage around the rear then this style of bikini bottom is what you are looking for. They sit a bit lower that the "classic" bikini cut.
Brazilian: The Brazilian brief is designed for those who would like to show a bit more flesh. The have a similar cut to the "classic" brief but ride a little hire showing of a bit more of what God gave you.
There you go. The perfect guide to the perfect two piece. If you have a holiday in the sun planned for this year and you would like to save a bit of money for drinks or a night out then we found this really handy Figleaves Discount Code you can use to save a bit of money on your next swimsuit. Enjoy!